Italians in the Yarra Valley before 1945
Author, Anthony McAleer OAM, pays tribute in this book, La Terra Promessa, (The Chosen Land), to Italians in the Yarra Valley before 1945.  How the Italian community overcame adversities and recognises how, through their ethic of hard work and how they embraced life in a fun and passionate way, they made a permanent mark on this landscape and on those that lived here.
---
Work began on the O'Shannassy Weir near Warburton in 1922 and many Italians found regular employment here until its completion in 1928. Many of these workers then moved on to work on the construction of the Silvan Dam.
Alessandro Casella (sitting centre with white shirt) with fellow Italian workers employed during the construction of the O'Shannassy Weir. It was obviously thirsty work they were doing. (Courtesy Casella family)
---
The name D Correlli appears on the Shire of Lillydale World War One Honour Board in Lilydale's Athenaeum Theatre (pictured).
This is a misspelling; it should read Dominic Correicllo, who was an Italian immigrant living at Lilydale at the time of his enlistment in the First World War and who went on to serve for four years on the Western Front with the 4th Pioneer Battalion and was wounded at in the Battle of Pozieres. He returned to live at Lilydale after the war.
His son, Ruodolph Correicllo, who was born at Lilydale, was later killed in action in World War Two fighting with the 2/7th Battalion in New Guinea and is buried at the Lae War Cemetery.
Let us not forget that Italians are a part of our Anzac Heritage too.
---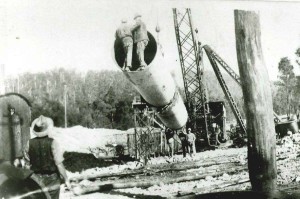 Long before the famous Snowy Mountains Hydro-electric Scheme came into being, migrants from all different European nationalities were working together in the Yarra Valley to construct a large public project.
This was the Silvan Dam, started in 1926 over three hundred men were hired to help construct it.
LT Luxton (in an article 'The Reservoir in the Hills' published in 'The Argus' February 15th, 1930)
'Cradled in the hills south east of Lilydale the dam, with its prospect of employment, attracts an astonishly cosmopolitan population. Working on the great concrete core wall, raising the earthen banks on either side, cutting back the forest, blasting the quarries, I found Australians and Englishmen, Germans and Norwegians, Swedes and Finns, Italians and Jugoslavs'.
---
A portrait of Luigi Marchesi, one of the first Italians immigrants to take up farming in the Yarra Valley after World War One.
Ironically his Aunt, Mathilde Marchesi, had taught Melba to sing professionally in Paris in 1887.
Luigi had a farm at Gruyere and regularly gave fellow Italians a job working on his farm, although history showed this would lead to his down fall.
Learn more about these and other Italian immigrants in our up coming book: 'La Terra Promessa' – Italians in the Yarra Valley Before 1945.